Are you tired of sitting in traffic?
Park&Pedal is a network of parking lot hubs conveniently located cycling distance from your city's employment centers, allowing you to park your car in a designated spot, and pedal your bike to work, avoiding "last-mile" congestion.
Not only does it improve your health, but less driving and lower cost parking save you money!
Park&Pedal® is the first network of its kind in the world, and combines the efforts of local governments, employers, and individuals to solve the growing problems associated with commuting.
According to the US Department of Transportation, the average round-trip commute in the United States is 24 miles and increasing. While this is an unmanageable distance for most to ride every day, Park&Pedal provides a manageable and convenient step towards bike commuting.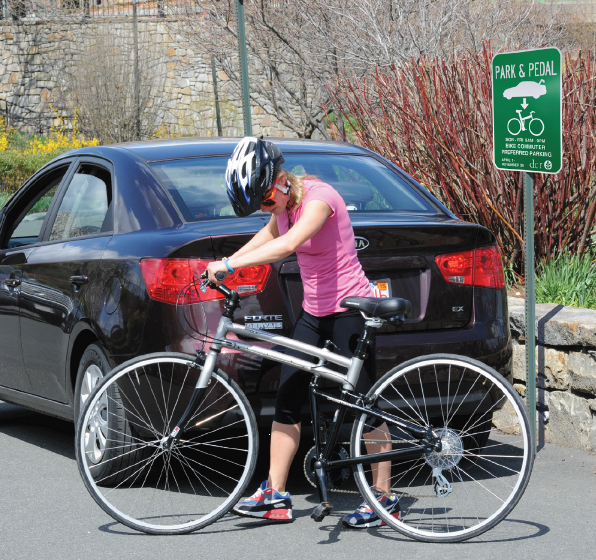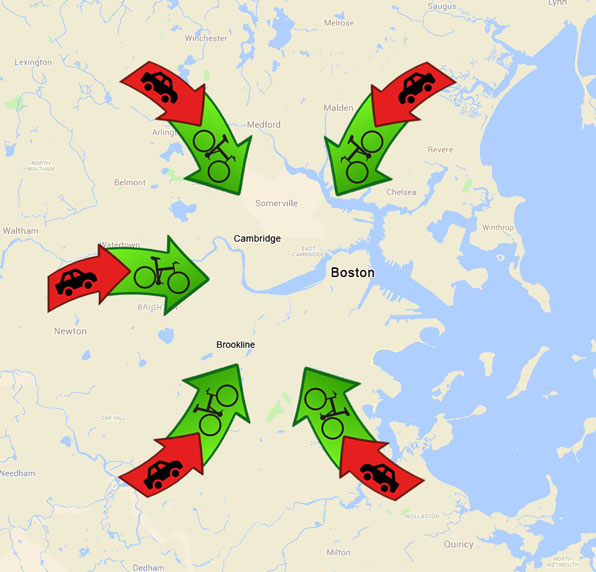 Flexibility is perhaps the biggest strength of a Park&Pedal program, as individuals are able to choose how far they ride on any given day.
"The Park&Pedal Commuter Network serves as an excellent example of state government working with private partners to meet the needs of the public. By expanding this unique multi-modal system, commuters will benefit greatly by not only alleviating traffic congestion, but will also encourage healthy active lifestyles." - Massachusetts Governor Charlie Baker
"This initiative is an example of how we can work across executive agencies and bring new thinking to our existing transportation assets, and create new, multi-modal connections that promote healthy commuting through cycling, and has the potential to alleviate highway congestion, while decreasing greenhouse gases." -MassDOT Secretary and CEO Stephanie Pollack
"The Park&Pedal program will provide a unique, outdoor recreational opportunity for Massachusetts citizens to incorporate in their daily lives while commuting to work. The results of such partnerships, like the one between DCR and Montague Bikes, will have lasting effects on thousands of people for years to come." -Massachusetts Energy and Environmental Affairs Secretary Matthew Beaton
Video Interview
Watch as Park&Pedal founder David Montague and Newton Mayor Setti Warren discuss the logistics, benefits, and plans for the future of Park&Pedal on This Week in Business from New England Cable News.