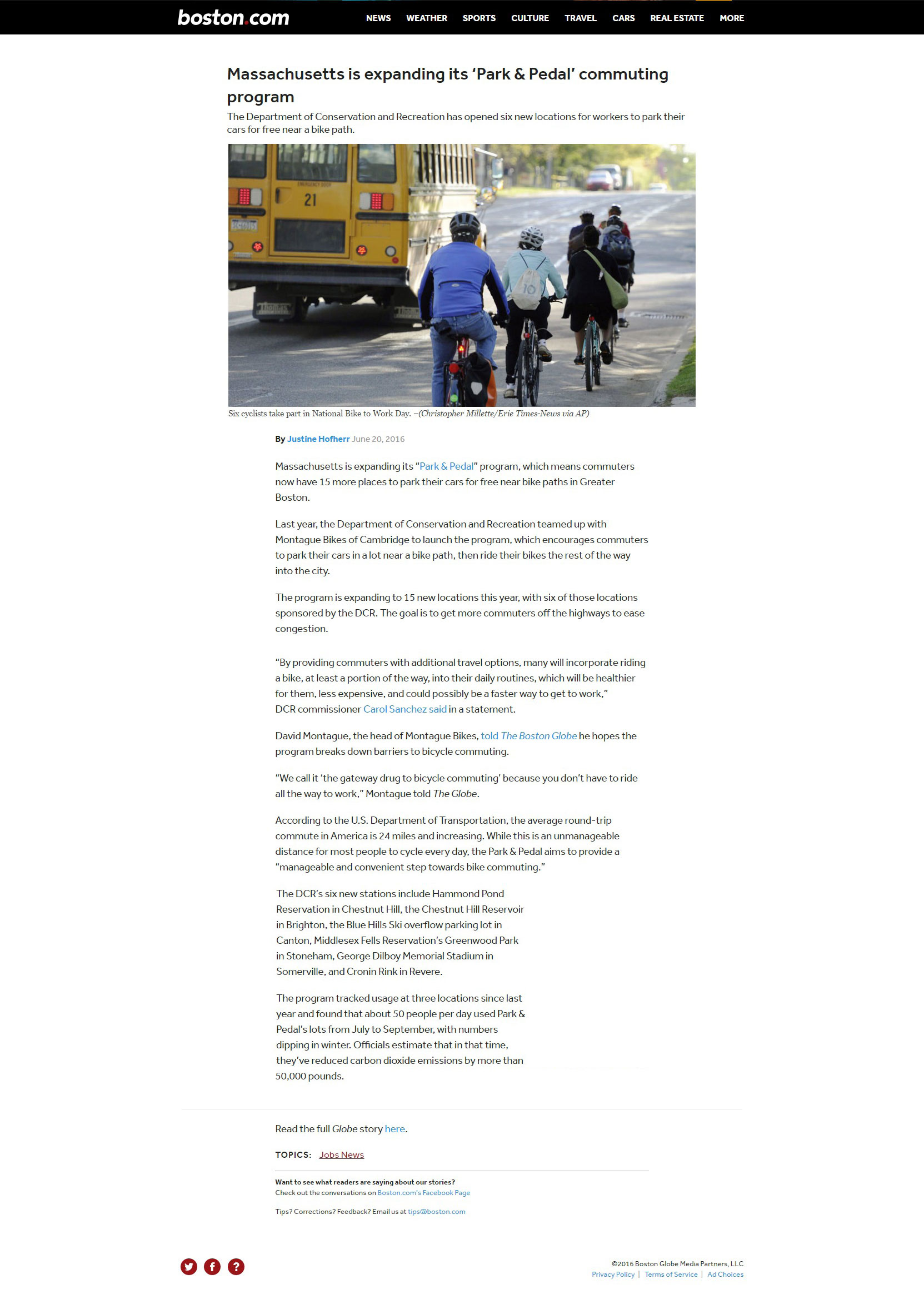 Massachusetts is expanding its 'Park & Pedal' commuting program
The Department of Conservation and Recreation has opened six new locations for workers to park their cars for free near a bike path.
By Justine Hofherr June 20, 2016
Massachusetts is expanding its "Park & Pedal" program, which means commuters now have 15 more places to park their cars for free near bike paths in Greater Boston.
Last year, the Department of Conservation and Recreation teamed up with Montague Bikes of Cambridge to launch the program, which encourages commuters to park their cars in a lot near a bike path, then ride their bikes the rest of the way into the city.
The program is expanding to 15 new locations this year, with six of those locations sponsored by the DCR. The goal is to get more commuters off the highways to ease congestion.
"By providing commuters with additional travel options, many will incorporate riding a bike, at least a portion of the way, into their daily routines, which will be healthier for them, less expensive, and could possibly be a faster way to get to work," DCR commissioner Carol Sanchez said in a statement.
David Montague, the head of Montague Bikes, told The Boston Globe he hopes the program breaks down barriers to bicycle commuting.
"We call it 'the gateway drug to bicycle commuting' because you don't have to ride all the way to work," Montague told The Globe.
According to the U.S. Department of Transportation, the average round-trip commute in America is 24 miles and increasing. While this is an unmanageable distance for most people to cycle every day, the Park & Pedal aims to provide a "manageable and convenient step towards bike commuting."
Has the open office trend gone too far?
Many Americans are still hesitant to use their parental leave, especially men
If you feel your work is meaningless, a bad boss is often to blame, researchers say
The DCR's six new stations include Hammond Pond Reservation in Chestnut Hill, the Chestnut Hill Reservoir in Brighton, the Blue Hills Ski overflow parking lot in Canton, Middlesex Fells Reservation's Greenwood Park in Stoneham, George Dilboy Memorial Stadium in Somerville, and Cronin Rink in Revere.
The program tracked usage at three locations since last year and found that about 50 people per day used Park & Pedal's lots from July to September, with numbers dipping in winter. Officials estimate that in that time, they've reduced carbon dioxide emissions by more than 50,000 pounds.