Are you tired of sitting in traffic?
Park&Pedal is a free network of parking lot hubs conveniently located cycling distance from your city's employment centers, allowing you to park your car in a designated spot, and pedal your bike to work, avoiding "last-mile" congestion.
Not only does it improve your health, but less driving and lower cost parking save you money!
Park&Pedal® is the first network of its kind in the world, and combines the efforts of local governments, employers, and individuals to solve the growing problems associated with commuting.
According to the US Department of Transportation, the average round-trip commute in the United States is 24 miles and increasing. While this is an unmanageable distance for most to ride every day, Park&Pedal provides a manageable and convenient step towards bike commuting.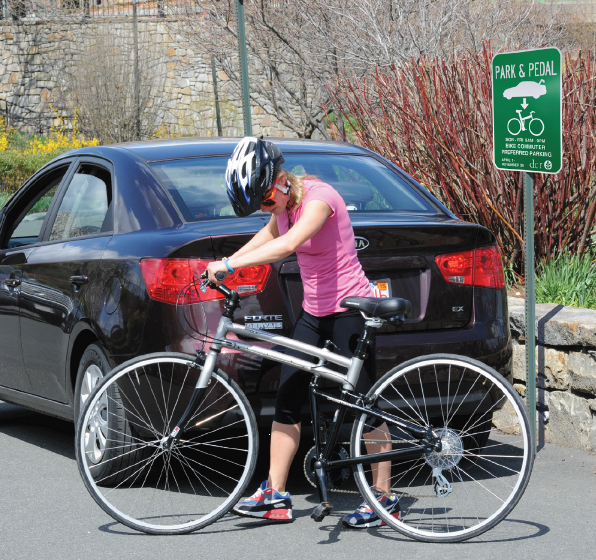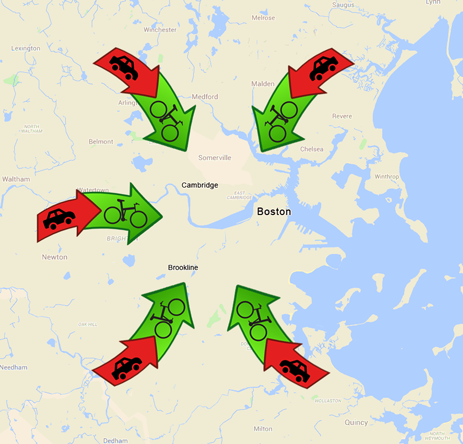 Flexibility is perhaps the biggest strength of a Park&Pedal program, as individuals are able to choose how far they ride on any given day.
"This initiative is an example of how we can work across executive agencies and bring new thinking to our existing transportation assets, and create new, multi-modal connections that promote healthy commuting through cycling, and has the potential to alleviate highway congestion, while decreasing greenhouse gases." -MassDOT Secretary and CEO Stephanie Pollack
"Boston and neighboring municipalities have a large number of people who drive into the city each and every day attributing to traffic congestion and vehicle pollution. By providing commuters with additional travel options, many will incorporate riding a bike, at least a portion of the way, into their daily routines, which will be healthier for them, less expensive, and could possibly be a faster way to get to work." -DCR Commissioner Carol Sanchez