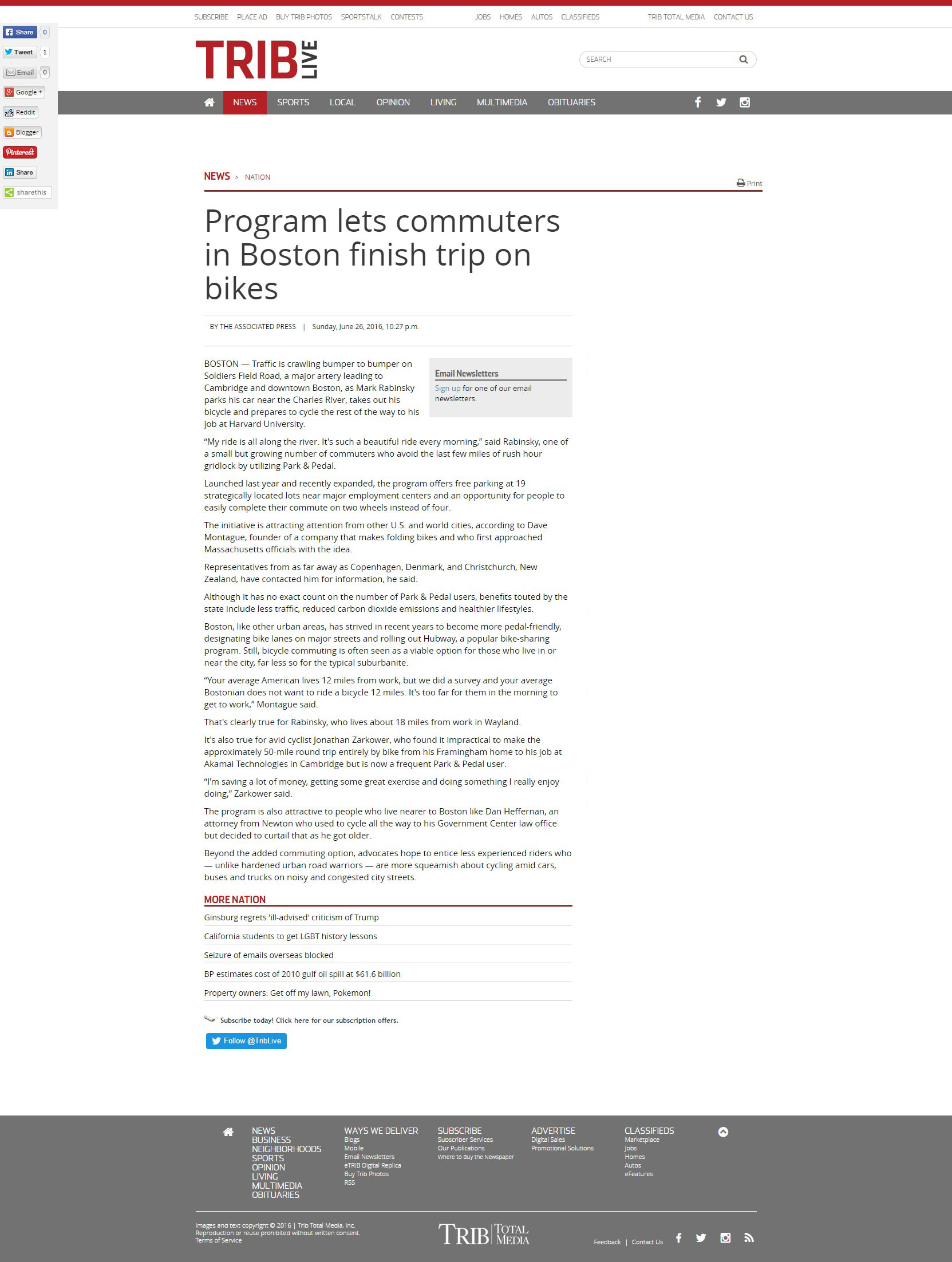 Program lets commuters in Boston finish trip on bikes
BOSTON — Traffic is crawling bumper to bumper on Soldiers Field Road, a major artery leading to Cambridge and downtown Boston, as Mark Rabinsky parks his car near the Charles River, takes out his bicycle and prepares to cycle the rest of the way to his job at Harvard University.
"My ride is all along the river. It's such a beautiful ride every morning," said Rabinsky, one of a small but growing number of commuters who avoid the last few miles of rush hour gridlock by utilizing Park & Pedal.
Launched last year and recently expanded, the program offers free parking at 19 strategically located lots near major employment centers and an opportunity for people to easily complete their commute on two wheels instead of four.
The initiative is attracting attention from other U.S. and world cities, according to Dave Montague, founder of a company that makes folding bikes and who first approached Massachusetts officials with the idea.
Representatives from as far away as Copenhagen, Denmark, and Christchurch, New Zealand, have contacted him for information, he said.
Although it has no exact count on the number of Park & Pedal users, benefits touted by the state include less traffic, reduced carbon dioxide emissions and healthier lifestyles.
Boston, like other urban areas, has strived in recent years to become more pedal-friendly, designating bike lanes on major streets and rolling out Hubway, a popular bike-sharing program. Still, bicycle commuting is often seen as a viable option for those who live in or near the city, far less so for the typical suburbanite.
"Your average American lives 12 miles from work, but we did a survey and your average Bostonian does not want to ride a bicycle 12 miles. It's too far for them in the morning to get to work," Montague said.
That's clearly true for Rabinsky, who lives about 18 miles from work in Wayland.
It's also true for avid cyclist Jonathan Zarkower, who found it impractical to make the approximately 50-mile round trip entirely by bike from his Framingham home to his job at Akamai Technologies in Cambridge but is now a frequent Park & Pedal user.
"I'm saving a lot of money, getting some great exercise and doing something I really enjoy doing," Zarkower said.
The program is also attractive to people who live nearer to Boston like Dan Heffernan, an attorney from Newton who used to cycle all the way to his Government Center law office but decided to curtail that as he got older.
Beyond the added commuting option, advocates hope to entice less experienced riders who — unlike hardened urban road warriors — are more squeamish about cycling amid cars, buses and trucks on noisy and congested city streets.