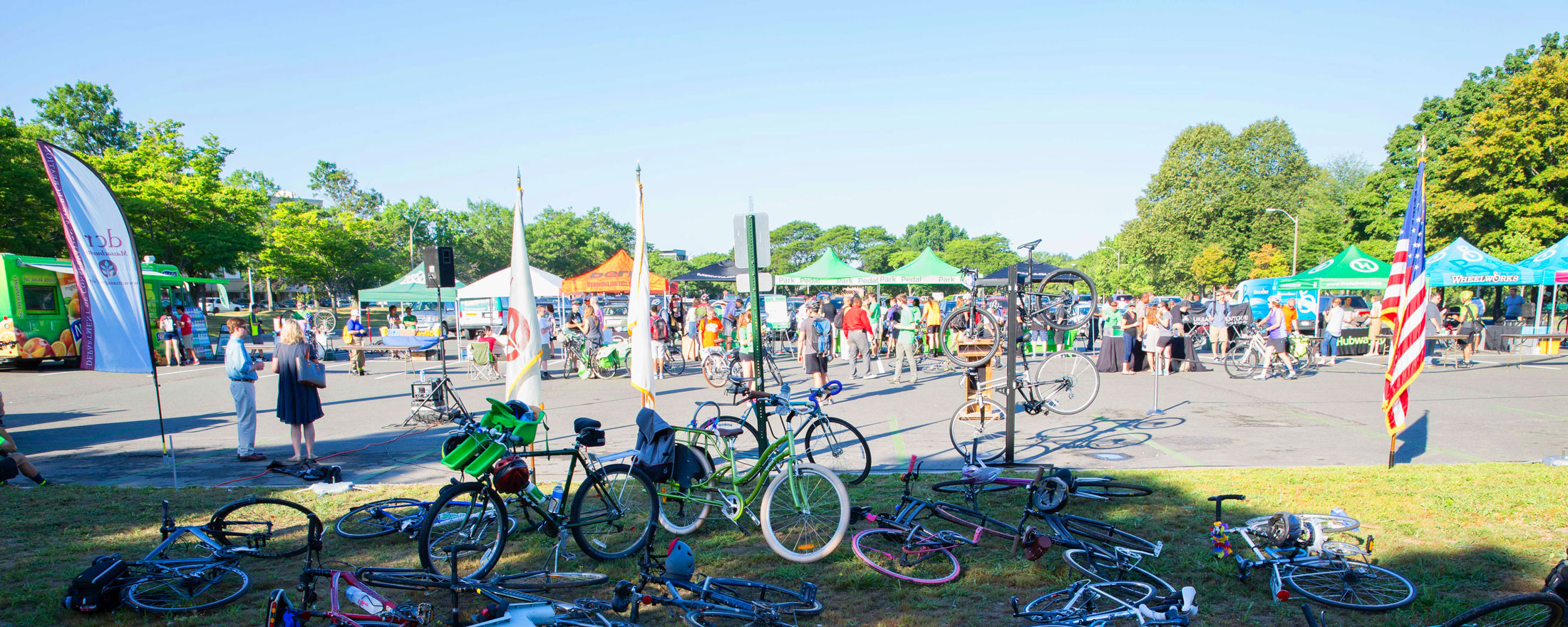 Friday, June 17 at 7:30 AM – 9:30 AM
Christian A Herter Park – 1175 Soldiers Field Rd, Boston, Massachusetts 02134
After a successful year getting drivers out of their cars and onto bikes, Park&Pedal is expanding! Come join us for a celebration and launch event for the newest Park&Pedal locations.
Stop by on your morning bike commute, or Park&Pedal from the event location. We'll have free food, music, and you can even enter to win one of several Montague Bikes being given away at the event! Ride home on a new set of wheels!
• Several Montague Bikes raffled off to attendees (free to enter)
• Free bike service by Belmont Wheelworks
• Free bagels and bread from Iggy's Bread
• Free donut holes from Dunkin' Donuts
• Free coffee from Dunkin' Donuts
• Free juice from Naked Juice
• WBOS 92.9 street team with music and giveaways
• Test rides with GeoOrbital
• Test rides with The Copenhagen Wheel
• Bike registration from Rejjee
• Hubway
• MassRIDES
• LivableStreets Alliance
• Sierra Club
• The Nature Conservancy
• MassCommute
• Allston Brighton TMA
• Seaport TMA
• Cambridge Community Development
• The Arsenal Project
**More vendors soon to be announced!
In attendance will be:
MA Secretary of Transportation Stephanie Pollack
MA Secretary of Energy & Environmental Affairs Matthew A. Beaton
MA Department of Conservation & Recreation Commissioner
Park&Pedal and Montague Bikes founder, David Montague
**Vendors soon to be announced!
RSVP on Facebook: https://www.facebook.com/events/1628856450707481/
If you're interested in participating the event as a vendor, please contact us at info@parkandpedal.org
Park & Pedal is a free network of parking lot hubs conveniently located cycling distance from your city's employment centers, allowing would-be car commuters to park in a designated spot, and pedal their bike to work, avoiding "last-mile" congestion.
The program provides a manageable step toward bike commuting, especially for those who live too far from work to cycle the entire distance. The goal is keep cars out of the city, and get more people on bikes!