On the morning of Friday July 31st, the launch event to celebrate Boston's official Park&Pedal program took place in DCR's Christian Herter Park to much fanfare. We want to thank everyone who came out to celebrate the country's first car/bicycle multimodal commuting network, and a special Thank You goes to Energy and Environmental Affairs (EEA) Secretary Matthew Beaton, Department of Transportation Secretary and CEO Stephanie Pollack, and the Department of Conservation and Recreation. We greatly appreciate you lending your support for Park&Pedal and helping make the program a reality for many to enjoy.

When Secretary Pollack first heard about Park&Pedal, she immediately saw the potential that it offers in reducing the number of vehicles on the road, and reducing vehicle emissions. At the event she spoke eloquently about the benefits of the program for everyone's benefit and enjoyment. Secretary Beaton, who is an avid cyclist that clearly puts in some miles, pushed the launch celebration forward and provided a fantastic personal account of how the program would affect commuters.
Also in attendance to help kick off the event was Park&Pedal founder David Montague of Montague Bikes, Massachusetts State Representative Kevin Honan, and Massachusetts State Senator Will Brownsberger.
Cutting the used bicycle tube ribbon! From left to right: MA State Rep Kevin Honan, Park&Pedal founder David Montague, DOT Secretary Stephanie Pollack, EEA Secretary Matthew Beaton, DCR Deputy Commissioner, MA State Senator Will Brownsberger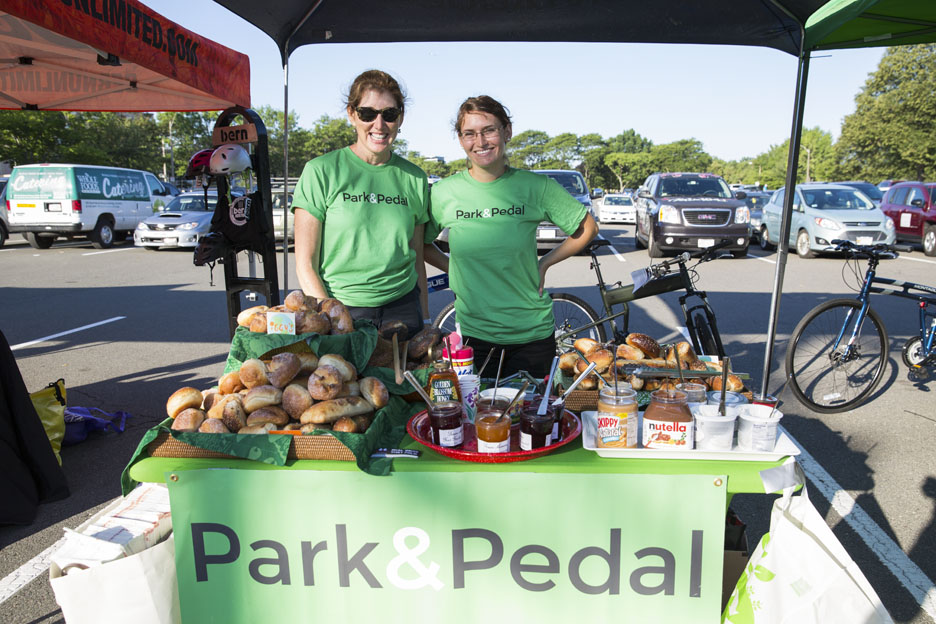 It was a fun filled morning with giveaways, bike raffles, and many delicious free breakfast treats. We want to extend a big thank you to all of our vendors for donating their time, service, food and beverage, and their help in promoting our event. Thank you to Iggy's Bread, Crema Cafe, Union Square Donuts, Boloco, Whole Foods Market, Naked Juice, Mix 104.1, Urban Adventours, Belmont Wheelworks, CommonWheels, Green Streets Initiative, Bern, Hubway, MassCommute, Boston Bikes, Boston Cyclists Union, MassBike, Cambridge Community Development, Charles River TMA, and Great Sky Solar.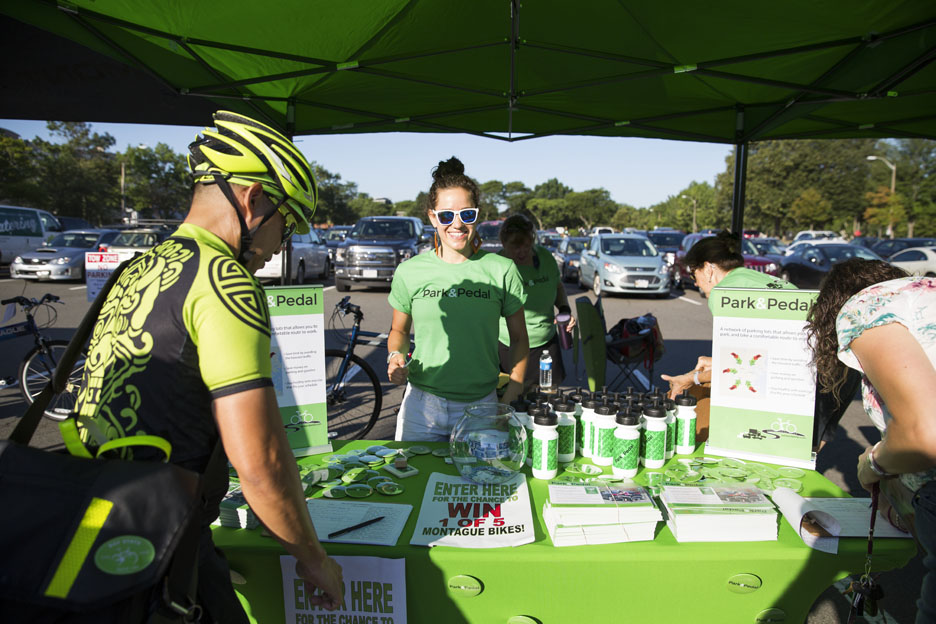 Free water bottles and bike giveaway entries here!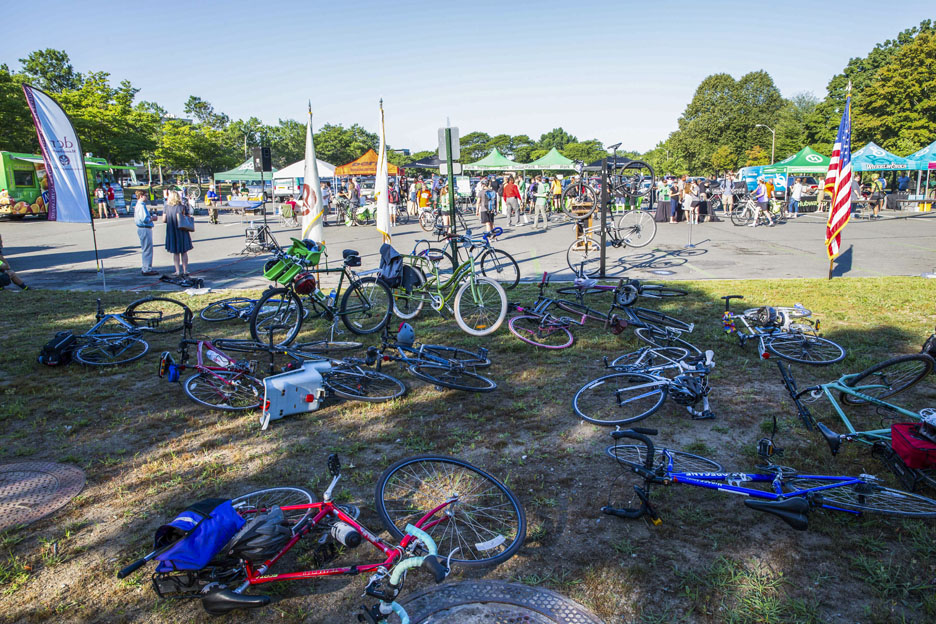 We had so many supportive riders from the greater Boston bike community come out to celebrate, and many new riders getting on the bike thanks to the Park&Pedal network.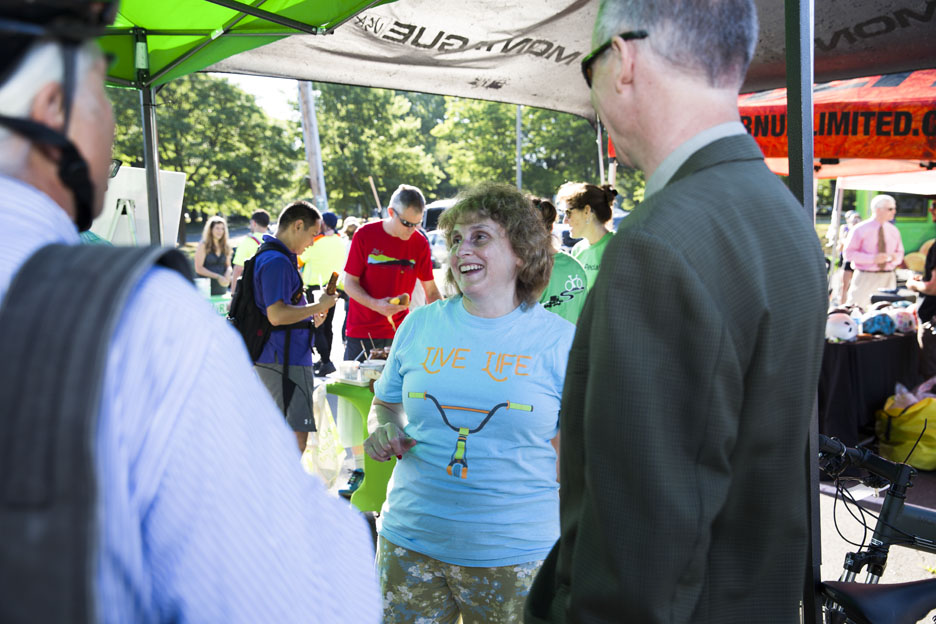 Secretary Pollack with David Montague.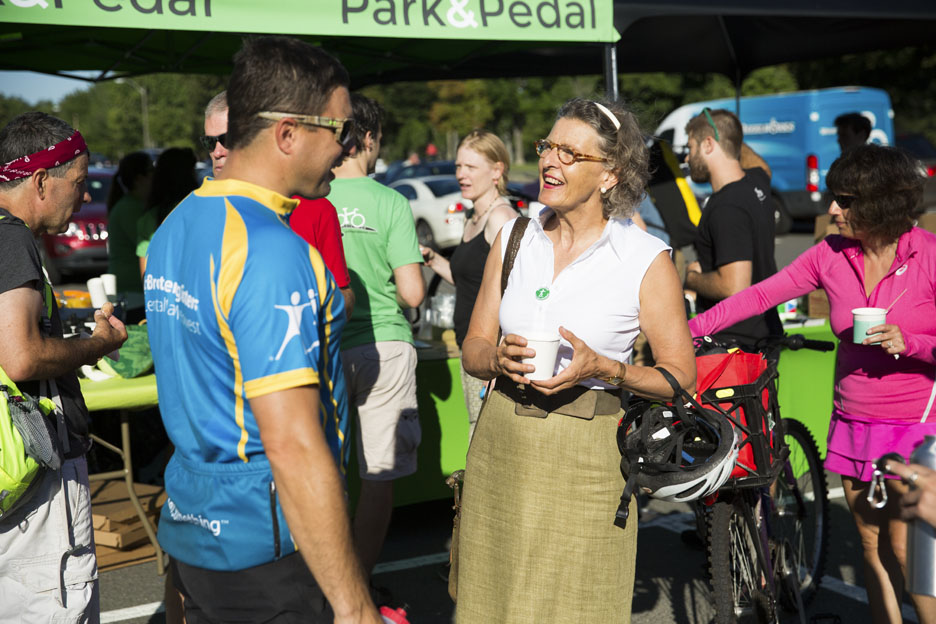 Secretary Beaton chatting with Renata von Tscharner, president of Charles River Conservancy!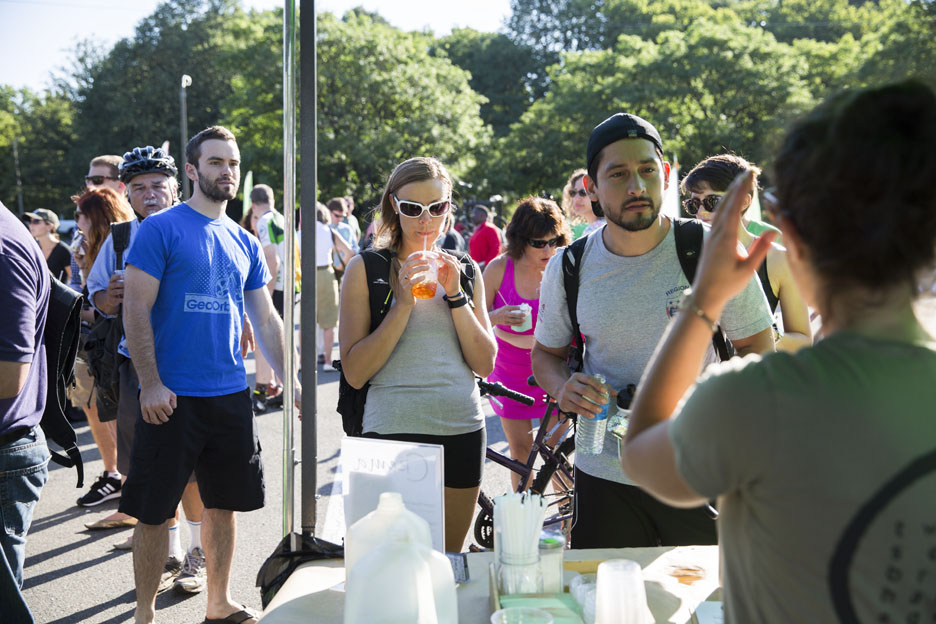 Hot, Iced, and Cold Brew coffee were flowing at the Crema Cafe tent!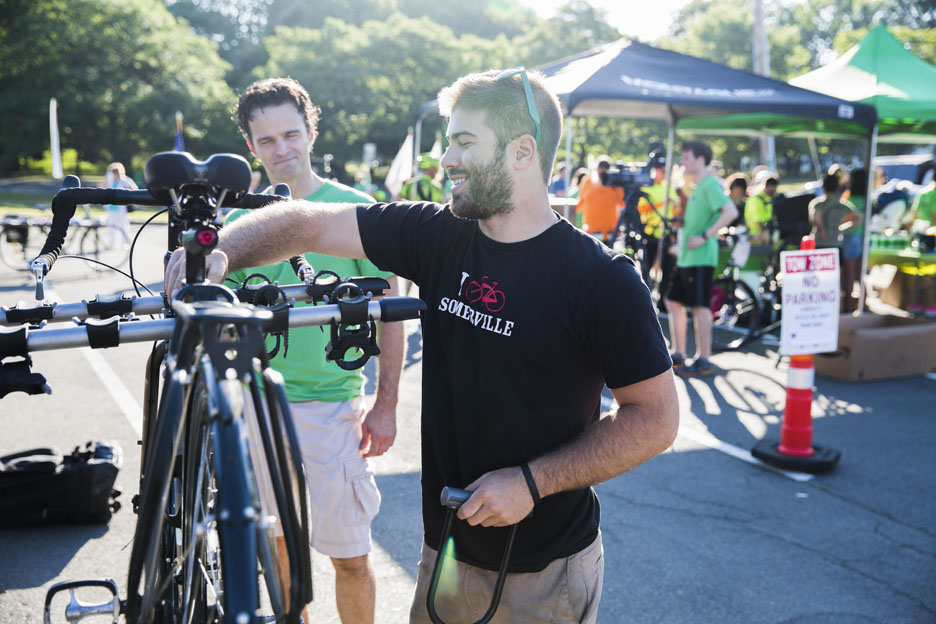 Urban Adventours was on site to lend support and lead a ride into downtown Boston.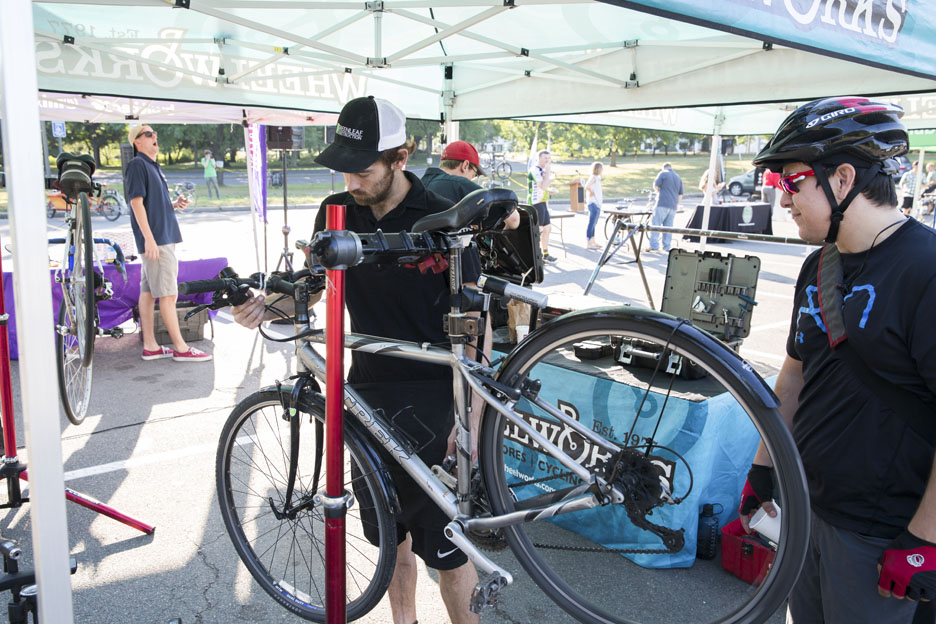 Belmont Wheelworks provided free bike service and tune ups!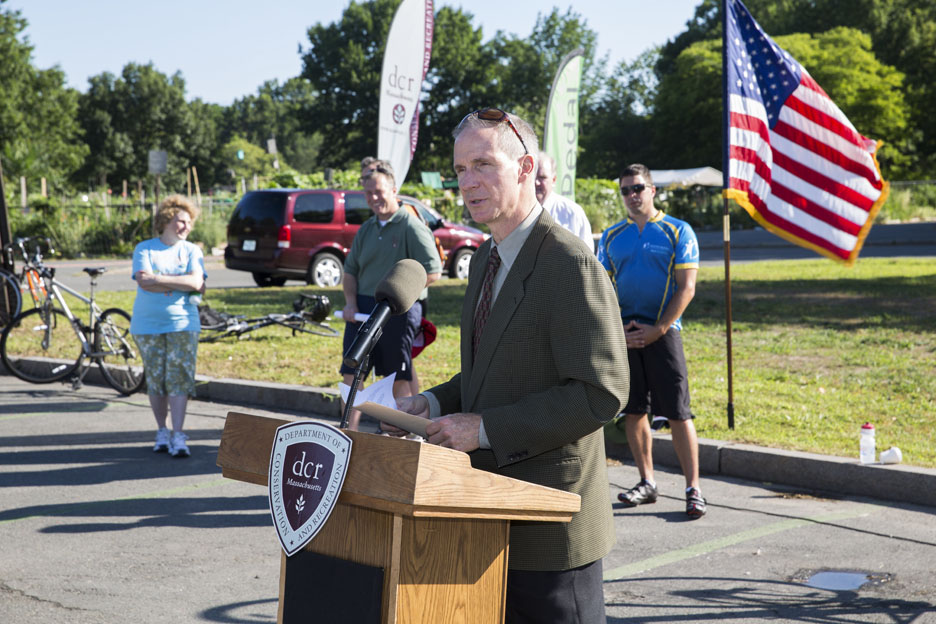 Park&Pedal founder David Montague of Montague Bikes addresses the crowd.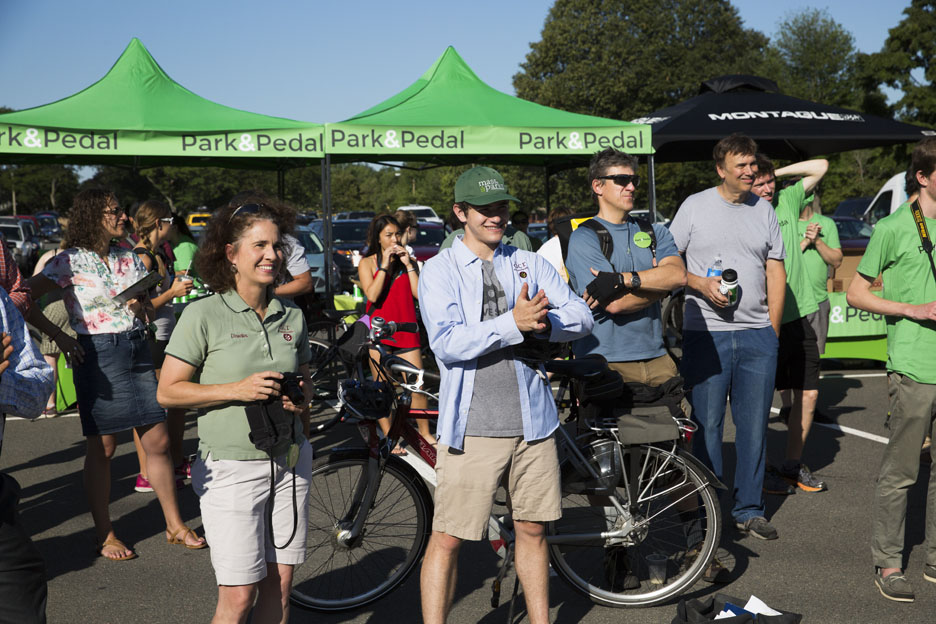 Left: Priscilla Geigis, DCR Director of State Parks & Recreation watches the ribbon cutting.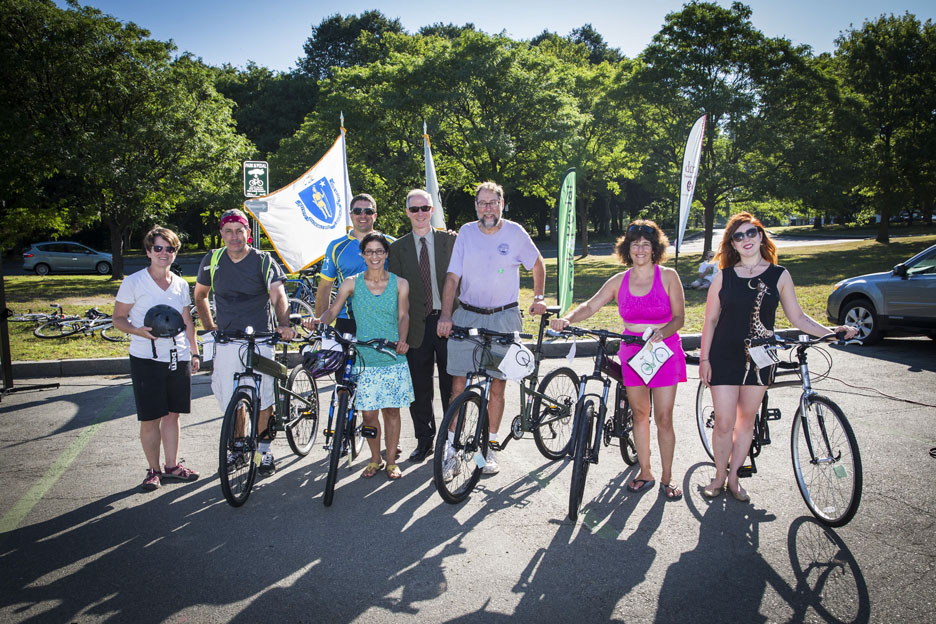 Five Montague bicycles and a Bern helmet were given away to attendees. Congratulations to our winners shown here!
View all the photos from the official Park&Pedal launch event in our Facebook album.