Carbon Dioxide (CO2) is the primary greenhouse gas emitted by human activities. According the US Environmental Protection Agency, transportation alone accounts for 31% of the CO2 released into the environment by humans, a close second only to electricity production.
Every car on the road contributes to the amount of greenhouse gas in our atmosphere, and with the average round trip commute in the US at 24 miles and getting longer, shifting our mode of transportation is a serious matter.
At Park&Pedal Fest 2016, the celebration event for the expansion of the Park&Pedal program, we built a display to illustrate a rather shocking reality.
The average American car commuter produces 230 cubic feet of CO2 every day.
Massachusetts Department of Transportation Secretary and CEO Stephanie Pollack liked the display so much when she saw it at the event, she asked that it be installed in the offices of MassDOT.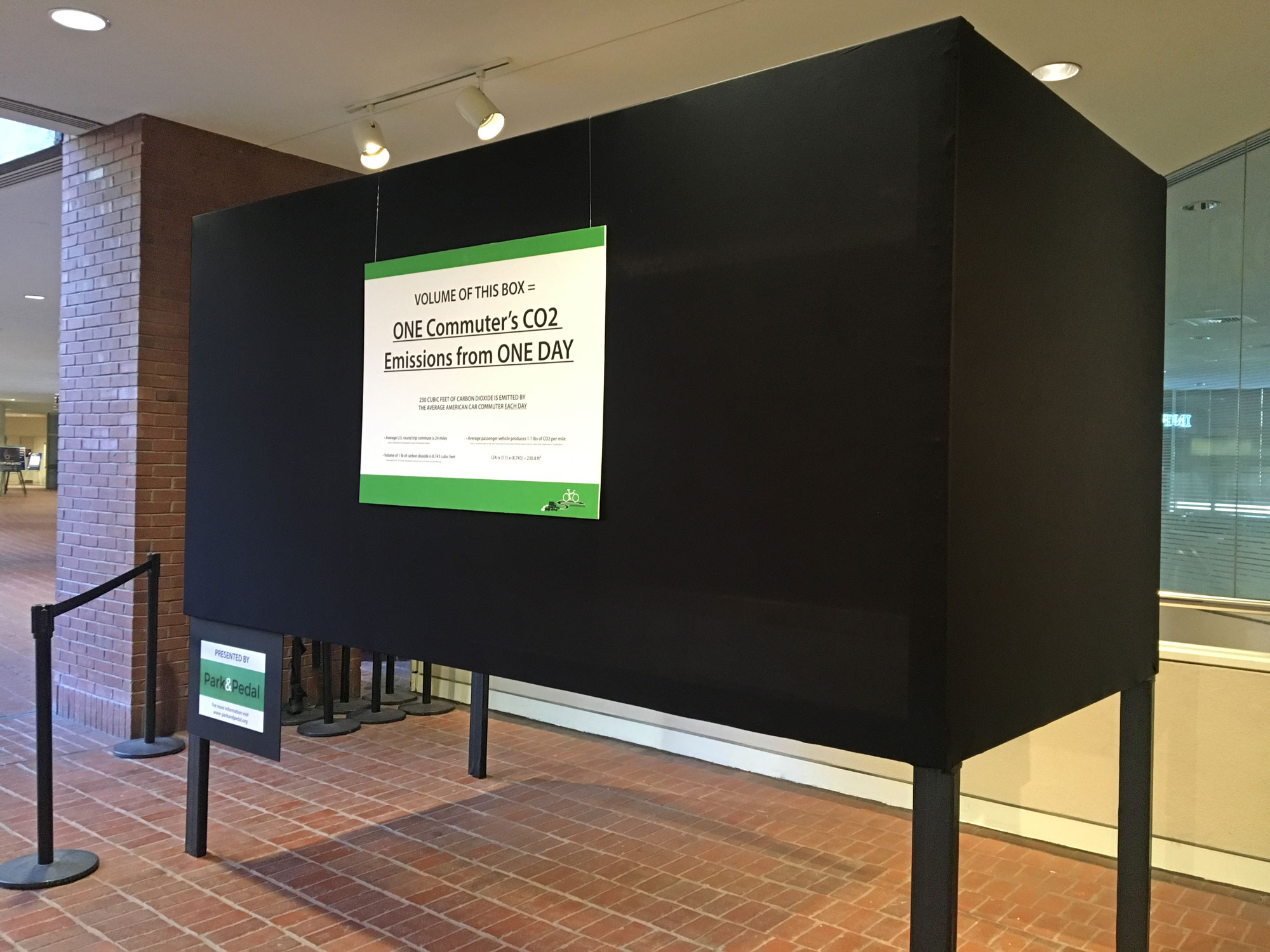 Inside the lobby of the Massachusetts Transportation Building is the rather conspicuous black box shown above. The sign reads, "Volume of this box = ONE Commuer's CO2 Emissions from ONE DAY". Visible to everyone who enters the offices of MassDOT or the MBTA, the 10 foot long 230 cubic foot box is a reminder of the impact  on the environment of every car on the road.
We wish it is was possible for everyone to use alternative transportation as the sole means to get to work, but not everyone lives close enough or conveniently enough to cycle/walk the whole distance, or take advantage of public transportation. Park&Pedal allows those car commuters without a green alternative to cycle part way, reducing the number of miles driven and the amount of greenhouse gases released into our atmosphere.